21 JUL 2023, SINGAPORE: Staytion, the fastest growing regional provider of flexible workspace solutions solidifies its digital presence in Singapore, Malaysia, Thailand, and is expanding its digital footprint into Indonesia, and Philippines through a strategic partnership with vOffice, the largest virtual office operator in Southeast Asia.

In collaboration with vOffice, Staytion strengthens its position as a rapidly growing startup and key player in the S.E.A market. This strategic partnership enables Staytion to offer a comprehensive suite of services tailored to the diverse and expanding needs of enterprises and small and medium businesses in the region. Value-added services such as company incorporation to business compliance, tax, and accounting services, Staytion and vOffice are joining forces to provide a holistic and wide range of enterprise solutions for businesses to support business owners in scaling up and down.

"This partnership between Staytion Singapore and vOffice Indonesia is at an opportune moment. The market has evolved tremendously, the ability to book and use spaces on-the-go via Staytion's proprietary digital platform coupled with vOffice's strong presence across Indonesia, and company registration services; will not only benefit the hybrid work culture but also facilitate cross-border growth of businesses in both countries. The productivity and success of professionals and entrepreneurs in the region is crucial for corporate growth in the Southeast Asian region, this partnership truly embodies this spirit of growth,'' says Minister Sandiaga Uno, Minister of Tourism and Creative Economy of Republic of Indonesia.
With the market rebounding post-Covid, Staytion's growth has been fueled by a strong surge in business travel. Business professionals and entrepreneurs are increasingly seeking flexible and reliable workspace options as they navigate the evolving work landscape. Staytion's digital platform, combined with outreach of physical locations, provides an ideal solution for those who require a productive and professional environment.

There are currently over 300 spaces and a wide range of workspace options listed on the Staytion platform that users can book for immediate use in Singapore, Malaysia and Thailand. Individuals or teams can choose from a selection of collaborative coworking environments, private offices for enhanced privacy, studios for creative endeavours, or private event spaces for hosting meetings or conferences. The diversity of space caters to the specific needs and preferences of professionals across all industries.

Customer convenience, ease of use, and security of payment processing is a top priority for Staytion, hence Staytion is partnering with Stripe to power its digital platform. With the Stripe integration, Staytion accepts over 135 currencies across a wide range of payment methods, enabling customers to transact seamlessly across the world.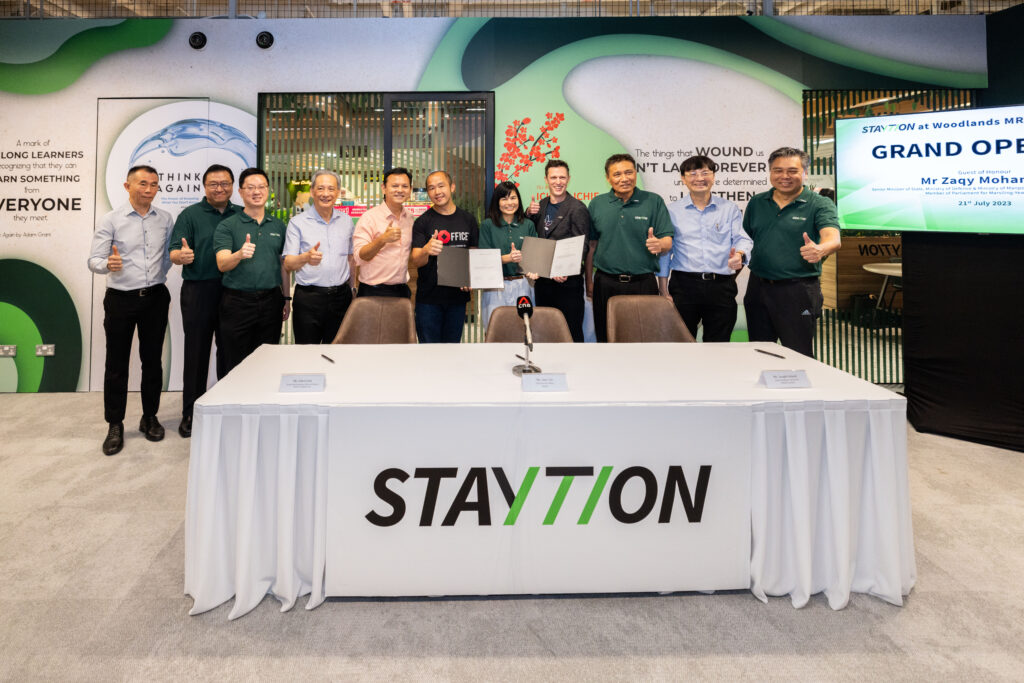 Signing of the Memorandum of Understanding (MOU) between Albert Goh, Group CEO and Director from vOffice Southeast Asia (left), Jane Toh, CEO of Staytion (middle) and Joseph Galante, Head of Southeast Asia Growth from Stripe Payments Singapore Pte Ltd flanked by witnesses, Senior Minister of State, Ministry of Defence and Ministry of Manpower and Deputy Leader of the House, Zaqy Mohamad of the Marsiling-Yew Tee GRC and Mr Abu Bakar Mohd Nor, SMRT Corp Director and Chairman, Staytion

In just nine months, Staytion has experienced remarkable growth, with its membership surpassing 10,000+. This tremendous success can be attributed to Staytion's commitment to supporting small and medium-sized enterprises (SMEs). Staytion offers flexible membership options that allow SMEs to scale their workspace requirements without hidden fees or unnecessary financial commitments, providing them with the freedom to focus on their core business.

"We are thrilled to expand our digital platform and partner with vOffice and Stripe as we continue to empower businesses in Southeast Asia," said Jane Toh, CEO of Staytion. "By combining our strengths in innovative space concepts and emphasis on technology as a key lever, we deliver flexible workspace solutions and essential services that drive business growth. Staytion is committed to supporting SMEs and providing them with the best tools they need in today's dynamic business environment."

Staytion Expands its Physical Footprint with the Opening of its Fourth Physical Outlet in Woodlands MRT Station (TE2) with Attendance by Guest of Honour, Mr Zaqy Mohamad, Senior Minister of State, Ministry of Defence & Ministry of Manpower, Deputy Leader of the House, and Member of Parliament for Marsiling-Yew Tee GRC.

Staytion, celebrated the opening of its fourth physical outlet at Woodlands MRT Station (TE2) and the event was graced by Mr. Zaqy Mohamad, Senior Minister of State, Ministry of Defence & Ministry of Manpower, Deputy Leader of the House, and Member of Parliament for Marsiling-Yew Tee GRC. This expansion marks another significant milestone in Staytion's journey to provide accessible and convenient workspace options in heartland locations with greater accessibility compared to conventional coworking spaces that are primarily based in the Central Business District.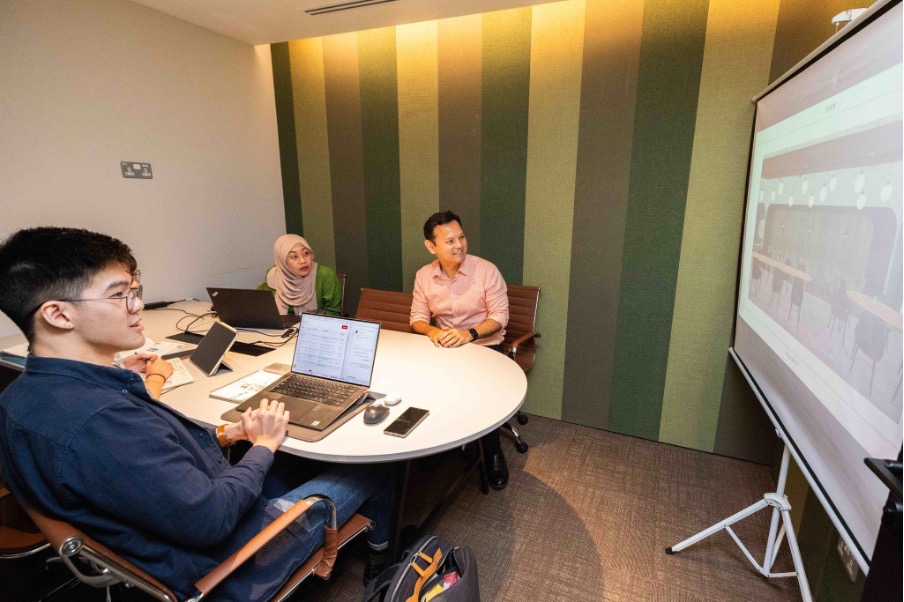 Minister Zaqy Mohamad interacting with Staytion Users
Located at Woodlands MRT Station (TE2), Staytion's new outlet offers a convenient location for individuals and businesses seeking a productive work environment. With its strategic position within the bustling transportation hub in the North, Staytion Woodlands provides unmatched convenience for commuters and hybrid workers alike.

Community Building Initiative at Woodlands and Marsiling Outlet.
Staytion is dedicated to community building and engagement. As part of its efforts to create conducive learning and engagement spaces for members, Staytion collaborated with the National Library Board (NLB) under its National Reading Movement initiative to transform Staytion's Woodlands and Marsiling outlets into community learning spaces with educational and interactive installations and e-books on the go. The spaces also differentiate Staytion from conventional coworking spaces, by providing a unique experience for its members. The Staytion-NLB collaboration supports NLB's ongoing LAB25 (Libraries and Archives Blueprint 2025) efforts to work with partners to make learning and discovery more accessible to everyone, anytime, anywhere.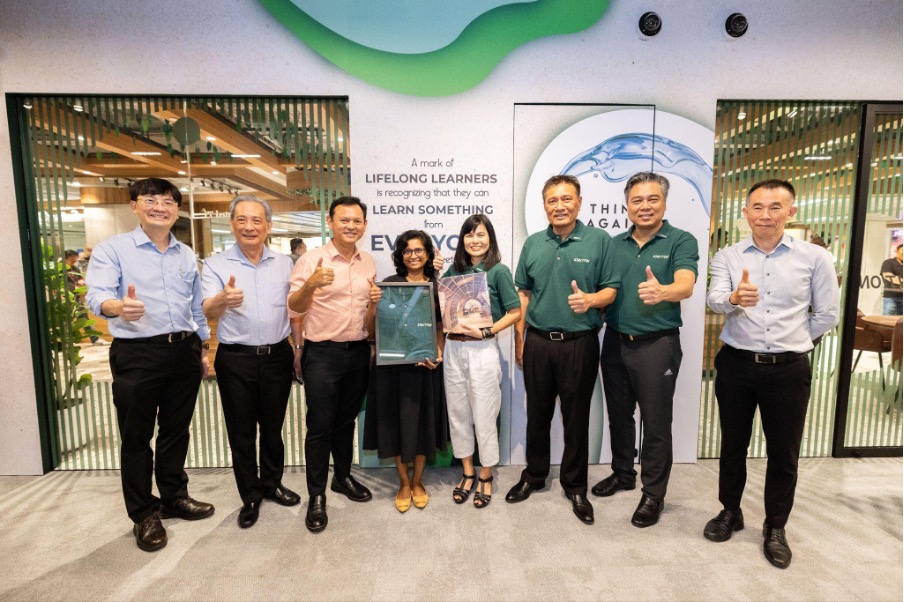 From left to right: Mr Ngien Hoon Ping, Group CEO of SMRT Corporation​; Mr Seah Moon Ming, Chairman of SMRT Corporation;​ Mr Zaqy Mohamad, Senior Minister of State, Ministry of Defence & Ministry of Manpower, Deputy Leader of the House, Member of Parliament for Marsiling-Yew Tee GRC; Ms Raneetha Rajaratnam, Director, Programmes and Services of National Library Board; Ms Jane Toh, CEO of Staytion; Mr Abu Bakar, Chairman of Staytion; Mr Tony Heng, President of Stellar Lifestyle; and Mr Lee Ling Wee, Deputy Group CEO of SMRT Corporation​

The addition of Woodlands outlet further strengthens Staytion's presence in Singapore, enhancing its ability to cater to the diverse needs of its members across the island. The new outlet showcases Staytion's commitment to providing flexible workspace solutions in key locations, allowing professionals to work efficiently and comfortably.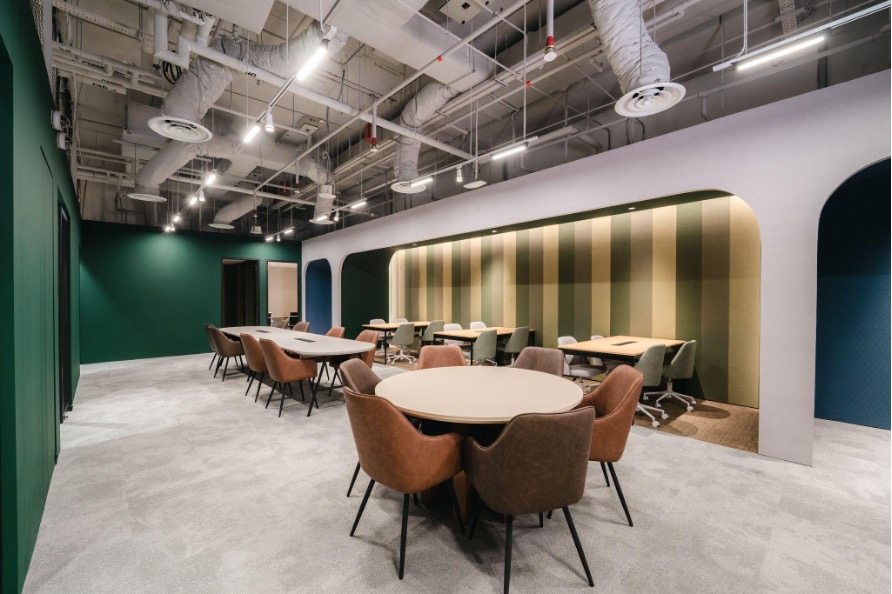 Just like its first physical location, Staytion Spaces @ TE2 Woodlands MRT has got users covered with all necessities. Well-equipped with a dedicated team on the ground, enterprise-grade wifi, and printing access.
About Staytion:
Staytion is a regional leading provider of flexible workspace solutions, offering a mix of physical locations and a robust digital platform to cater to the diverse needs of business professionals and entrepreneurs.

Recognized as the ''Flexible Workspace Initiative of The Year'' by Real Estate Asia Awards 2023, Staytion dominates its presence in Southeast Asia and is expanding into new markets, Staytion provides a seamless and productive work environment, empowering businesses to thrive and succeed.

Follow Staytion on Facebook @staytionsg, Instagram @staytion_sg, or visit gostaytion.com for more exciting updates.
About vOffice:
vOffice is a leading provider of comprehensive office solutions with a strong presence in multiple countries. With virtual offices available in four countries and physical office spaces in three countries, and over 60 locations, vOffice is an industry leader with extensive reach and expertise in the virtual office market. With more than 19 years of market experience, they have served over 100,000 clients, establishing themselves as a trusted name in the business. vOffice specializes in virtual offices, corporate services, and visa processing, catering to the diverse needs of businesses. Their offerings primarily consist of private studios and meeting rooms, providing professionals with flexible and customized workspace solutions.

Recognized as the ''Office of The Year'' in the Philliphines, vOffice continues to evolve and streamline its branding efforts, transitioning from UnionSpace to the unified vOffice brand. With vOffice Indonesia, vOffice Phillipines (Acceler8), vOffice Thailand (Unionspace), and vOffice Malaysia, they remain committed to delivering exceptional office solutions across Southeast Asia.
About Stripe:
Stripe is one of the largest online financial infrastructure platform for businesses in the world. The purpose of the partnership with Stripe is to help facilitate seamless and secure online payments services for Staytion.
About NLB:
The National Library Board (NLB) nurtures Readers for Life, Learning Communities and a Knowledgeable Nation by promoting reading, learning and history through its network of 28 libraries, the National Library and the National Archives of Singapore. NLB also forges strategic partnerships that encourage awareness, appreciation and greater discovery of Singapore's history through its rich collections in Singapore and the region.
NLB achieves excellence through innovation, focusing on citizen engagement and co-creation, resource and digital innovation. This creates learning opportunities, greater access to library resources, services, and archival collections, as well as a continual development of innovative library spaces. Established on 1 September 1995 as a statutory board, NLB is under the Ministry of Communications and Information (MCI).
For more information, please visit the NLB website, Facebook, Instagram, LinkedIn and YouTube channels.