Stellar Lifestyle and The Place Holdings Enter Into a Collaboration Agreement to Develop "L.I.F.E" Omni-Channel Ecosystem to Improve Commuters' and Communities' Lifestyle Experiences and Enhance SMEs' Capabilities within Singapore's Digital Economy
The Place Holdings to Invest S$200 Million Towards the "L.I.F.E" Omni-Channel Ecosystem, a Key Highlight will be Singapore's First Sky Screen Attraction with Technology Infrastructure that Aligns with Singapore's Vision for a Smart Nation
The "L.I.F.E" omni-channel ecosystem stands for Logistics, Immersive, Futuristic and E-Commerce and The Place Holdings will invest approximately S$200 million in this ecosystem
As part of the four key foundation blocks of the "L.I.F.E" omni-channel ecosystem, both firms will spearhead Singapore's first Sky Screen attraction, a suspended 200 meters long video screen that is an enhanced version of Beijing's iconic spectacle, The Place Sky Screen, as a catalyst for new tourism and retail experiences in Singapore
Aligned with Singapore's vision for a Smart Nation, both companies aim to develop a digital platform with technology infrastructure comprising Artificial Intelligence, Big Data, Internet of Things applications, among others, that is integrated within the "L.I.F.E" omni-channel ecosystem
The "L.I.F.E" omni-channel ecosystem aims to improve commuters' and communities' lifestyle experiences, enhance SMEs' digitalisation capabilities, and boost new business vibrancy within Singapore's digital economy
Strong opportunities for The Place Holdings and Stellar Lifestyle to scale and replicate the "L.I.F.E" omni-channel ecosystem across emerging digital markets in Asia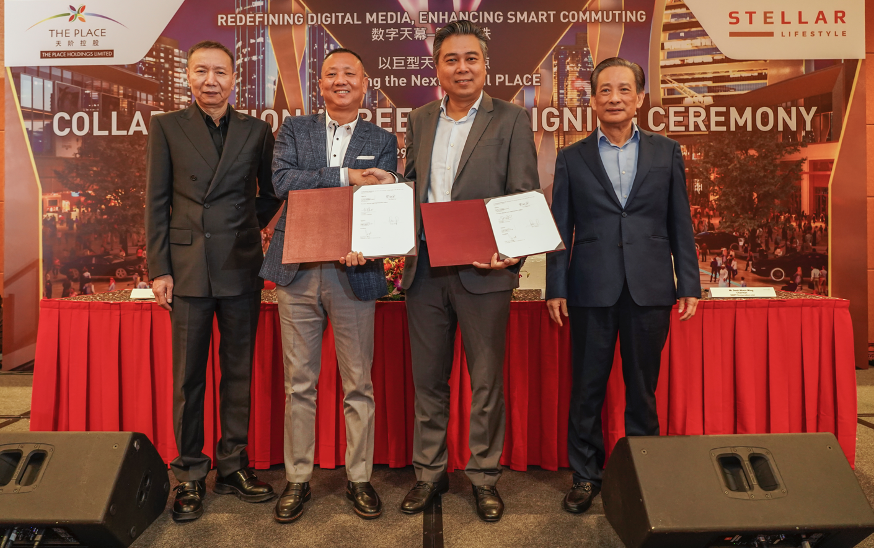 SGX mainboard-listed company, The Place Holdings Limited ("The Place Holdings", the "Company" or "天阶控股" and together with its subsidiaries, the "Group"), is pleased to announce that it has entered into a collaboration agreement with Stellar Lifestyle Pte. Ltd. ("Stellar Lifestyle" or "胜德丽生活时尚"), a business arm of SMRT Corporation Ltd., to jointly shape the future of digital media and tap new opportunities in the digital economy with the development of the "L.I.F.E" Omni-Channel Ecosystem.
Creating vibrant transit destinations through continuous innovation and a desire to make our everyday touchpoints better, Stellar Lifestyle is the largest managing agent of retail and advertising spaces in Singapore's Out-Of-Home and rail network.
Improving Commuters' and Communities' Lifestyle Experience and Enhancing Singapore's SMEs Capabilities within the Digital Economy via the "L.I.F.E" Omni-Channel Ecosystem
Under the collaboration agreement, there are five key business areas in the "L.I.F.E" omni-channel ecosystem:
Sky Screen Ecosystem Platform
Co-working Platform
Digital and Advertising Platform
Technology Applications Platform
Last-Mile Service Platform
The Place Holdings will invest approximately S$200 million in the L.I.F.E omni-channel ecosystem and for a start, both companies will focus on the development of the digital platform with technology infrastructure comprising Artificial Intelligence, Big Data, Internet of Things applications, among others, that is integrated within this ecosystem.
In addition, The Place Holdings and Stellar Lifestyle are planning Singapore's first Sky Screen, a suspended 200 meters long video screen that will be an enhanced version of Beijing's iconic spectacle, 世贸天阶梦幻天幕 ("The Place Sky Screen").
Pioneering new experiential marketing experiences in China, The Place Sky Screen is one of the largest sky screens in Asia with 7,500 sqm of LED lights across a space of 250m long and 30m wide. The Place Sky Screen has established a strong brand and continues to be a popular venue and platform for various events, advertisements and media.
For Singapore's first Sky Screen, it is positioned as a high-tech, immersive visual extravaganza and attraction that aims to be a catalyst for new tourism and retail experiences in Singapore with unique and engaging experiences.
A key component of "L.I.F.E" omni-channel ecosystem, Singapore's first Sky Screen attraction will also serve as a catalyst for SMEs to boost new business vibrancy via new possibilities in digital media solutions and technology innovations.
Mr Seah Moon Ming (佘文民), Chairman of SMRT Corporation Ltd, said, "As part of SMRT's Communities in Station programme, we are transforming our stations into inclusive community spaces to engage commuters, better serve the public and foster a stronger sense of community. Following the successful launch of our Comic Connect project in Toa Payoh station, we are now collaborating with The Place Holdings to jointly develop experiential media solutions to drive meaningful social interactions and provide innovative business offerings.
The Place Holdings has an impressive track record of developing market-leading media, tourism, and real estate businesses. We look forward to seeing the enlivened stations and surrounding neighbourhoods that will connect better with commuters and communities.
We believe these collaborations would pave the way for greater business success together."
Mr Ji Zenghe (吉增和), Executive Chairman of The Place Holdings, said, "The digital era has been rapidly evolving and the technology we are already exposed and accustomed to has paved the way for us to innovate further.
Together with Stellar Lifestyle, we share the same vision of utilising new technology advancements and infrastructure to improve the quality of our lives and enabling SMEs to integrate into modern business models with new digitalisation capabilities. Singapore's first Sky Screen is positioned as a new tourism attraction, creating immersive and experiential experiences that also serve a catalyst for new business models within the digital economy.
Together with the "L.I.F.E" omni-channel ecosystem, we aim to complement Singapore's Smart Nation initiatives by continuously improving our platform offerings and experience, creating endless possibilities and value propositions for the communities that we serve."